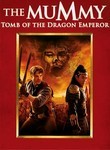 [IMDB link] [Netflix link] Of course we'd watch movie #3 after watching movie #1, movie #2, and the 26 episodes of The Mummy:TAS…
CONCLUSION: This was entertaining, and gets a generic pass from us. Familiar characters, plus action and special effects. Not a great story, but interesting and entertaining. It's not every day you have to deal with an army of the resurrected dead. Nor do you see badass Yetis everyday, unless you're at a SubGenius event.
RECOMMENDATION: If you've come this far, you may as well finish the job and watch #3.
COINCIDENCES: (The Mummy 3, The Invincible Iron Man (2007) (anim)) Within a week, watched 2 movies that had relic Asian army soldiers being resurrected or about to be resurrected to fight, as well as both having a female Asian character who seemed to have a family destiny spanning thousands of years — to prevent/ensure something from happening. Wow. It's like the writers got a hold of each others' ideas. But the Iron Man animated movie came out first!
Also – Hellboy 2 had a sleeping army as well! This plot is getting overused!
MOVIE QUOTE: Jonathan Carnahan: "Ah! My ass is on fire! My ass is on fire! Spank my ass. Spank my ass!" (Okay, I don't remember this, but it's kind of funny.)
Mood: hungry
Music: Aqua Teen Hunger Force – 16