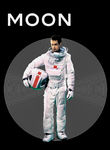 [IMDB link] [Netflix link] [Official site] [Fan it on facebook] This movie had a few twists, so I would advise NOT reading any of the spoilers until you have seen it.
PLOT SUMMARY: Man works for 3 years straight on a moon base, harvesting Helium-3, which accounts for 70% of Earth's power in the future. However, his only company is a HAL-like computer named GERTY. He starts going crazy near the end of his term, gets in an accident, and ends up having startling revelations about who he is, and why he is there.
LIMERICK REVIEW: [highlight for spoilers]→ Sam Bell had to work at the Moon all alone,
Hauling Helium-3 from zone to zone on his own,
His boredom felt like a curse.
Then things took a turn for the worse:
He finally realized, "Dude!! I'm a clone!"
HAIKU REVIEW: Moon bases kick ass!
But being there for 3 years
is probably too long.
UNCOMFORTABLE PLOT SUMMARY (inspired by this): [highlight for spoilers]→ Capitalism causes cloned slave to die painfully after living a life that is a lie.
PEOPLE: Sam Rockwell (Choke (2008), Zaphod Beeblebrox in the 2005 Hitchhiker's Guide To The Galaxy, Confessions Of A Dangerous Mind, Charlie's Angels, Galaxy Quest) does an amazing job as the only "real" character in this movie.
Kevin Spacey, who is only in this film as a voice, really does an excellent job as a creepy computer voice. If 2001 were made today, there is no doubt that Spacey would be the best person possible to cast as HAL. Kevin Spacey's portrayal of the "GERTY" computer makes him the "HAL of a new generation". And hey! His name has "Space" in it, and this movie's in space! Coincidence or conspiracy?!
QUIRKS: A messed up (in a good way) amalgam of science fiction, mystery, drama, and psychological thriller. This is not really an action movie, and in fact has less action than most space-based movies.
VISUALS: A sterile moon base, and some scenes taking place in moon rovers. Despite being science-fiction, this movie is not particularly visual. However, the few effects that are used in the movie are implemented quite well.
SOUNDTRACK: Two songs, and only 1 that we noticed: Walking On Sunshine by Katrina & The Waves. And there's actually a good, plot-specific reason for them using this song. That reason is that, [highlight for spoilers]→ as clones, these guys had false memories that were decades off from reality. He thought he was going home to a wife who was actually long dead. As clones, they were living anachronisms. So it makes sense that they would listen to dated music. So why not use dated music for the soundtrack? That song is over 20 years old!
MORALS/POLITICS: 1) Corporations would definitely act like they did in this movie. Definitely. Anything for a profit. Although I didn't catch this fact when watching the movie, apparently a voice on the radio near the end mentions that the corporation is going on trial for crimes against humanity.
2) The 5 senses cannot be trusted in and of themselves, but must be subjected to scrutiny and logical analysis.
BAD STUFF: I wish they had shown more of what happened AFTER the events in the movie.
Also, the movie is a bit confusing. But this is part of its beauty! It's cerebral, and unexpectedly deep for how simple it is. However, it is indeed helpful to read (after watching, of course) the "What exactly happened?" section of the IMDB FAQ found at http://www.imdb.com/title/tt1182345/faq, as well as the "Faq 2.0″ posted in the forum at http://www.imdb.com/title/tt1182345/board/nest/146468580.
CONCLUSION: On the surface, this movie seems like it could be kind of boring: It is mostly one person, alone, in a sterile moon base. The special effects were done quite well, but are not numerous. This is not a visual movie. However, the mystery, thrill, and suspense of this movie are very well done, and quite cerebral. Combining aspects of science-fiction, mystery/conspiracy, drama, and psychological thrillers, this movie came out a TOTAL WIN, and one of the 3 best sci-fi movies to come out in the past few years. (The other two was District 9, and of course the 2009 Star Trek movie.)
RATINGS:
Clint: Netflix: 5/5 stars. IMDB: 9/10.
Carolyn: Netflix: 4.6 (so 5, really)/5 stars. IMDB: 9/10. "Waaaaay better than 2001." I agree, since 2001 was a disappointment for me.
The native public rating for this movie is Netflix: 4.2/5 stars (4.3/5 stars for people who rate like me), IMDB: 8.0/10. (Pretty damn high for IMDB!)
RECOMMENDATION: I'd say this and District 9 are the 2 best sci-fi movies to come out in several years!
SIMILAR MOVIES: Much of this reminded me of 2001. The bleak solitude in space, the talking to a sophisticated A.I. Plus, Moon has "oo" in the middle, and 2000 had "00″ in the middle. And the "M" and "n" in Moon are 1 character apart, just like the "2″ and "1″ in 2001. I had to wonder if this was on purpose.
This movie also brings up the same moral issues found in both [highlight for spoilers]→ Blade Runner and The Island.
And it also has a few similarities to the movie Sunshine… Though Moon had less hard science, and less lunacy (pun intended) at the end.
The director wants to do TWO sequels. He has my full support!
MOVIE QUOTE: GERTY: I hope life on Earth is everything you remember it to be.
COINCIDENCES: (Moon, Family Guy S8E6) 2 videos in a row with [highlight for spoilers]→ cloning, and clones who die after a [relatively] short period of time.
Also, we are going to watch The Broken in the future, and noticed that in the summary for that movie, the main character [highlight for spoilers]→ sees herself driving by in a vehicle, and has a "WTF" moment. Well, Moon had the main character see himself in a vehicle too!
Mood: argh
Music: Pixies – River Euphrates