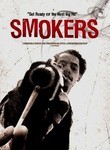 [IMDB link] [Netflix link] Hot on the heels of Kicking The Dog, we thought we'd try another low-budget independent film that looked interesting and bad at the same time. Note that this is NOT the same movie as the female-empowerment film "The Smokers".
PEOPLE: A bunch of nobodies from a nobody production studio.
QUIRKS: Extremely low-budget. Kicking The Dog looks glossy compared to this! This literally looks like people took camcorders around. I mean, for chrissakes, re-shoot the scene if a frickin' train roars by and makes the dialog hard to hear! Jeeeeeeeze.
VISUALS: A few rotoscoped scenes, like Waking Life or A Scanner Darkly. It helped create the feel of two very stoned people having a conversation. And the ending climax scene was filmed in a cool way, with 4 separate panels showing everyone's face. In fact, many scenes had the "24-style" multiple-cameras-at-once.
But other than these gimmicky tricks? No good visuals whatsoever. Urban city. People in parks. Apartments. Nothing special to look at at all.
MORALS: It's not cool to rob people. And having to deal with the black market puts you in touch with some real creeps.
POLITICS: Look at all the crap that happened during this movie… Especially the end. If marijuana were legal, none of this shit would have to happen. And a boring movie like this would hopefully have never been made.
BAD STUFF: While having its moments of visual marijuana brilliance — like the rotoscoped scenes… It was mostly boring. At times, the audio was mixed so poorly that we could not understand what anyone was saying. It was hard to know who the main characters were, what the plot was, or what was going on.
CONCLUSION: If this movie could be as good as the last 3 minutes, then it might have gotten a passing grade from us. Unfortunately, this movie was a big fail. I gave it a 4/10 on IMDB — which is about what the average vote is — and a 2/5 stars on Netflix. It's a rare movie that we wish we'd never watched.
RECOMMENDATION: Even if you think you have to watch every inner-city urban stoner film in existence… You're still better off without this. AVOID IT!
Mood: meh
Music: The Church – Day Of The Dead