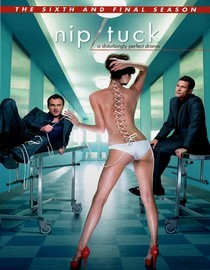 [IMDB link] [Netflix link] [Facebook 'fan/like' link] [old JumpTheShark page from archive.org] Mostly watched in 720p HD — people had been recommending this show to us for many years. I'm glad we started late enough that the finale happened before we finished! We had no clue it was about to end. It took us about 2.5 months to watch all 100 episodes.
PLOT SUMMARY: Plastic surgeons and longtime friends deal with interesting professional ethical challenges.
For people who already watched the series, here's the most concise season-by-season plot summary that still covers most of the main plot points. I simply took notes as I watched the season. Here it is: [highlight for spoilers]→ S1=Escobar the criminal 80′s-music-loving guy, horny-rich-old-bitch blackmail, Matt's self-circumcision, S2=shrink gone?!?, carver, McNamara separation, Christian's=Matt's dad, Ava/Famke the transsexual, S3=McNamara divorce, spa, Sean works @ FBI, Rhona Mitra+Quentin=carver, S4=new management=blackmailed ex-escort/kidney thief/gold-digger, mutant baby=surgery+midget+McNamara re-breakup, Matt+Kimber=Scientology+pregnant, is Christian gay? No, Escobar killed, S5=shark jump?, Hollywood fever/stabby pretend agent/Sean=pretend cripple, Julia lezes w/Portia De Rossi+psycho daughter Eden that poisons+shoots her, Matt=Kimber+heroin+break up,burn victim,incest, Christian=cancer,marries/divorces Liz, Biker/"24 Mole" chick hired, S6=Matt's a mime/robber/prisoner, daughter's a hair-eatin' emo, biker chick now=Rose McGowan,marries,tries to kill family,gets killed, S7=Christian's a self-hating worthless asshole,marries Kimber,auto-erotic asphyxiation,Kimber suicides, Sean+Christian=couples therapy, Liz dates squirter, Matt leaves Ramona@altar for Ava, Christian breaks partnership, makes Sean go to Bucharest
LIMERICK REVIEW: There once were two plastic surgeons named Christian and Sean,
Their lives were exciting, and would not make you yawn.
Their jobs were morally complex,
And their social lives oversexed–
But finally they realized they needed a new dawn.
HAIKU REVIEW: Plastic surgery:
Way more morally complex
than people would think.
UNCOMFORTABLE PLOT SUMMARY (inspired by this): [highlight for spoilers]→ Plastic surgeons refuse to change for the better, lose the women they love, fail to stop a serial killer, fail to stop an organ thief ring, and altogether fail at personal growth.
QUIRKS: Gory plastic surgery set to music. Crazy professional ethical situations the likes of which you'd never imagine. Medical oddities, transsexuals, fetishists, swingers, lesbians, sex addicts, sex addiction, drug addiction, serial killers, organized crime, abusive police, gangsters, rich powerful people, Scientology, Hollywood.
This show is more intense and disturbing than many. And the characters are complex and nuanced…. That's why it's good!
VISUALS: A great show to watch in HD: Tons of close-up gruesome surgery scenes, tons of beautiful women, tons of intense situations.
(more…)