Got up early enough to make it to the 8AM-12PM yardsale rush, but then opted to keep laying in bed. Repeatedly. We didn't actually get up until 11:45AM or so, and only made it out driving by 12:30PM or so. A lot of yard sales are actually over by this time; we knew it'd be kind of pointless.
Yet we still went out until 3:30PM or so, for a total of 3 hours or so. Latest yardsaleing ever.
Total spent $20.25 plus ~$8 gas for ~30 miles of driving, for a total cost of $28.25.
We bought 13-~40 items (depending on how you count) – for a total estimated value of $202.53, leading to a profit of $174.28. To earn that much after taxes you'd really have to earn $249; money saved (by not having to spend it) is actually worth more than we realize when the government's cut is taken into consideration.
That's $58.09/hr as a couple or $29.05/hr per person.
$8.00: megaphone, Realistic brand, black, plays 99 different short (1-5s) tunes, doesn't work well as a megaphone but the tunes part is too annoying to resist, taking this to X-Day. But then I tried to fix the bad knob on the microphone by spraying contact cleaner into it, and now it doesn't work at all. Probably should not have gotten this, but it is the most annoying thing ever that you can get for $8. I actually tried to talk her from $10 to $5, but noo, she had to have $8, and now it's halfway broken. (EV:$10)
$5.00: bucket, yellow, 12×14 – containing emergency food rations – 7 packs of 2400cal (6x400cal) bars, 10 packs of water (7.5L total), made 200809, expire 201309 – Yes, I marked my google calendar to remind me to eat these if no emergency arises by then. We already maintain an emergency box, and this bucket o' rations went right by it. Plus we wanted a bucket anyway. (this is an incomplete version of this $80 set, missing the toilet stuff — I HAD NO IDEA THIS WAS ALSO A TOILET — but with 1.75 sets worth of food bars, no blanket, no first aid, so I'd call this EV:$20)
$3.00: chopper (aka slap chop), 4.5″ diameter – a bit bigger than our Pampered Chef one, but it doesn't open up for easy cleaning like the Pampered Chef ones do (EV:$12)
$2.00: electrolysis kit, Inverness OneTouch Deluxe Home Electrolysis – the woman said she's permanently fixed her eyebrows and didn't need it anymore (EV:$20)
$1.00: cat toy, tube, furry, blue, 52″ long (EV:$40)
$0.25: light bulbs (3), 4w – we use this size of bulb, this is cheaper than Home Depot (EV:$0.63)
$FREE: rug (striped runner) – can always use more, don't understand why people throw these out (EV:$5)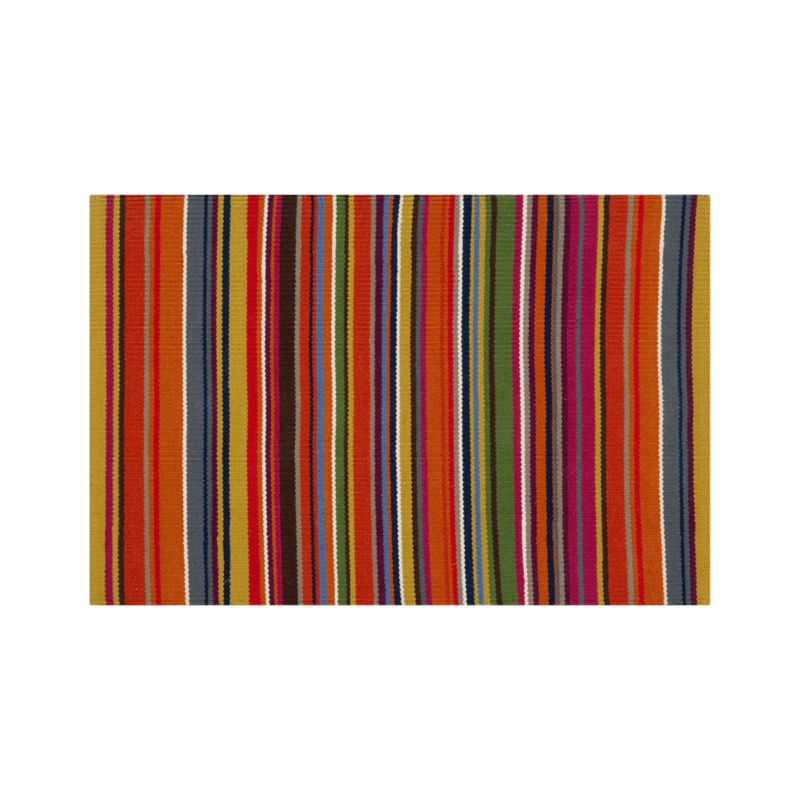 $FREE: book, Powerpuff Girls, Bubbles Saves The Circus, Choose-Your-Own-Adventure book – will read this sometime (EV:$1)
$FREE: book, Powerpuff Girls, Sticky Business, sticker and coloring book – put a few stickers in random places before throwing away (EV:$0.10, since it was all scribbled over and trash except for the stickers, like a huge Mojo Jojo sticker)
$FREE: bowling ball plus case, Budweiser, white – this thing is like the most white trash thing ever, love it! (EV:bag=$20,ball=$40 new but it's not in the greatest condition so I'll say $10)
$FREE: cd jewel cases (19) – useful for burning discs for other people, as I only buy spindles of blanks (EV:$3.80)
$FREE: christmas lights – whole boxful – mostly white, some color. Included an individual bulb tester. Which means we've spent tons of time testing all the bulbs on the the strings that didn't work, then re-filling them with tested bulbs to ensure the string is really dead before throwing it away. Plus now we have tons of replacement bulbs for our existing strings. Can never have too many Christmas lights. (EV:tester=$6, 5 or so strings we'll get out of this=$30)
Click here for other Yard Sale-related postings.
* EV stands for "Estimated Value", which I estimate by looking things up in Google Shopping/Google/Amazon/Ebay. I don't always deduct for an item being used, unless it's actually in worse condition in a way that matters. I also try to only count shipping if it's the type of thing that would need to be shipped, and only if the price isn't "fixed" (i.e. 1 cent items that cost $10 to ship would not be $10 in person). (more…)